APPELLATE PRACTICE
HILL&
HILL
Hill & Hill handles state appellate cases at every level, including cases heard by the Kentucky Court of Appeals and the Kentucky Supreme Court. If you lose your case at the trial court level, whether by entry of a summary judgment or following the conclusion of a jury trial or bench trial, you have the right to appeal your case to a higher court. A litigant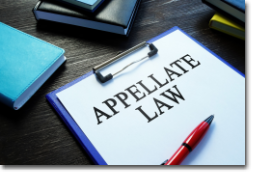 can appeal one time, as a matter of right. After that, the reviewing court has discretion as to whether or not to hear your case.
Cases decided in district court are generally appealed to the circuit court in the same county. Such cases include forcible detainer actions, misdemeanor criminal cases, juvenile dependency, neglect and abuse cases (in counties with no family court), and other cases. Cases heard in circuit court include but are not limited to felony criminal cases, divorce and custody actions, and civil actions where the amount in controversy exceeds $5,000. These cases are appealed to the Kentucky Court of Appeals, at which time the case is assigned to a panel of three judges who will then review and decide the case.
---
Appeals are extremely time-sensitive. So if you have a case that you want to appeal, you need to quickly take action, consulting with legal counsel immediately. Once the deadline to appeal passes, you likely have no recourse to overturn the trial court's decision. A litigant generally has only 30 days to file a Notice of Appeal; however, some deadlines are set by statute and require that a Notice of Appeal be filed in even less time.
---
When done correctly, appeals are time-consuming cases to handle, and are priced accordingly. Appeals are often highly technical cases, meaning it is important to find counsel who is experienced to handle these types of cases. Appellate work is fraught with deadlines, and failure to meet certain deadlines can be fatal to your case. The Court of Appeals and the Kentucky Supreme Court have very high standards for practitioners. For example, your brief can be stricken and your case dismissed if certain requirements are not met.
If you are in need of appellate counsel, whether as an appellant (one who is appealing) or an appellee (one against whom an appeal has been taken), give us a call. We handle civil appeals across the Commonwealth of Kentucky, and we would be happy to discuss the possibility of handling your case. However, be cautioned that when it comes to appeals, time is very much of the essence. Therefore it is important to call us as soon as you discover that you may need to file an appeal. Or, if you are the appellee, it is important to call us as soon as you find out that the other side has appealed your case.
We handle appeals for current clients as well as new clients. We also handle appeals at the request of trial counsel, either as referrals or working with trial counsel.
In addition to handling appeals in the Kentucky Court of Appeals and the Kentucky Supreme Court, we handle administrative appeals involving certain state regulatory agencies including the Cabinet for Health and Family Services, the Kentucky Office of Unemployment Insurance, and certain licensing agencies.
Call Hill & Hill today at (606) 528-7181!
Following is a list of published and unpublished opinions in cases in which Attorney Amanda Lester Hill has been involved: TC v. ME, 603 S.W.3D 663 (Ky. App. 2020); Cash v. McFarland (unpublished 2018 WL 4523197); Coomer v. Phelps, 172 S.W.3d 389 (Ky. 2005); Infinity Energy v. Henson (unpublished 2019 WL 2246607); Curles v. Prater (unpublished 2019 WL 3369860); Lambert v. Lambert, 475 S.W.3d 646 (Ky. App. 2015); Killian v. Rednour (unpublished 2020 WL 5494626); Prewitt v. Prewitt (unpublished 2018 Wl 1224627); Robinson v. Robinson, 556 S.W.3d 41 (Ky. App. 2018); Keith v. Pooja Ventures, LLC (unpublished 2008 WL 2852852); Com., Transp. Cabinet v. James (unpublished 2007 WL 1893731); State Farm. Ins. Cos. v. Ashley (unpublished 2006 WL 2986480); Couch v. Layton (unpublished 2010 WL 4905235); and Kier v. Stephens (unpublished 2011 WL 3654465).
Top