VEHICLE ACCIDENTS
HILL&
HILL
Car accidents, truck wrecks and motorcycle crashes aren't the only motor vehicle accidents that can cause serious injury or death. Farm tractors, boats, golf carts, motorized scooters, and all-terrain vehicles have caused a number of injuries and fatalities in Kentucky.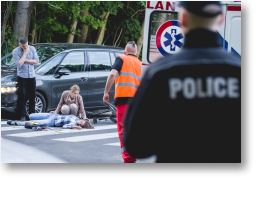 Many recreational vehicles handle quite differently than cars, and even the most experienced drivers may be caught off guard by how a golf cart or ATV maneuvers in a sharp turn. An unexpected obstacle or defect on a piece of land can cause vehicles traveling at a high speed to flip over. Children may be especially at risk for vehicle crashes, because they have no formal driver training or experience.
In a car, seatbelts, air bags, and the integrated crash cage help protect occupants from injury when a crash occurs. But many recreational vehicles have no similar protections. Operators can be ejected from vehicles and pinned beneath them, and that's how many deadly injuries happen.
If you or someone you love has been hurt in a motor vehicle accident, you may be entitled to compensation. If the accident was due to someone else's recklessness, a dangerous condition on a property, or a defective component of the vehicle, you may be able to pursue a personal injury claim against the other party.
Find out if you have a case. Call the team at Hill & Hill today: (606) 528-7181.
ATV INJURIES
Data collected by the U.S. Consumer Product Safety Administration seems to indicate that ATV fatalities are a growing problem. Between 1982 and 2009, 479 people died in Kentucky ATV accidents. That's an average of about 18 deaths per year.
Kentucky has the fifth highest rate of ATV-related fatalities, and ATV deaths are especially high in some southeastern counties, including Whitley, Laurel, Bell, and Harlan counties.
ATVs may be made for a single operator or designed to carry passengers. They may have low-powered 50cc engines, typically found in youth-model ATVs, or powerful engines exceeding 800cc, in sport and utility models. Misuse of ATVs – such as carrying more passengers than recommended or allowing children to operate powerful, full-size models – is often the cause of crashes.
Kentucky law prohibits anyone under age 12 from operating an ATV with an engine over 70cc. Unless supervised, riders must be 16 years old to operate ATVs with engines over 90cc. But according to the American Academy of Pediatrics, no child under the age of 16 should drive or ride on an ATV.
Precaution is essential for families that own an ATV. Ensuring that all riders follow the law and avoid risky driving behavior may help reduce the likelihood of a crash.
GOLF CART INJURIES
Golf carts don't have the horsepower of ATVs, but they can still cause injury. Every year, emergency rooms treat about 13,000 people injured in golf cart accidents. Of those patients, about 40 percent are children under age 16, and about half have injuries related to falling off a moving golf cart.
The roomy, open-air design, combined with a lack of safety belts, can cause passengers to be ejected from golf carts on sharp turns. Many children have suffered serious head injuries and fatal injuries falling off the back or out the side of golf carts.
Some golf carts are equipped with grab bars and side bars designed to prevent ejection, although they may be of little help, depending on the speed and angle at which someone falls, and in some cases, these protections are faulty.
In 2014, Club Car recalled 1,800 of its golf carts, because a hip restraint bar on the passenger side could break and fail to support a passenger. It's one of several golf cart recalls that have occurred in recent years, due to fall, crash, and fire hazard.
---
If you've been injured in a golf cart accident because it malfunctioned, you may be entitled to compensation. Call us today at (606) 528-7181.
---
OTHER VEHICLE INJURIES
In 2014, boating accidents killed nine people and injured 38 in Kentucky. According to the U.S. Coast Guard, alcohol use was a factor in five of those deaths and 16 of those injuries.
People may not realize that drinking alcohol while operating a boat is a crime in Kentucky. Boaters under the influence of alcohol who "unreasonably annoy or endanger themselves or others" can be arrested.
Regardless of the type of vehicle, operating it while intoxicated greatly increases the risk of an accident resulting in injury or death. Alcohol impedes judgment and reaction time, whether someone's driving a car or an ATV.
GETTING HELP
Vehicle accidents can result in broken bones, brain injuries, and death. When other parties are to blame for any of those terrible outcomes, families should hold them accountable for their actions.
Hill & Hill aims to promote and protect the rights of people in southeastern Kentucky. If you need help with a vehicle accident case, call us today at (606) 528-7181, or complete our online contact form.
Top